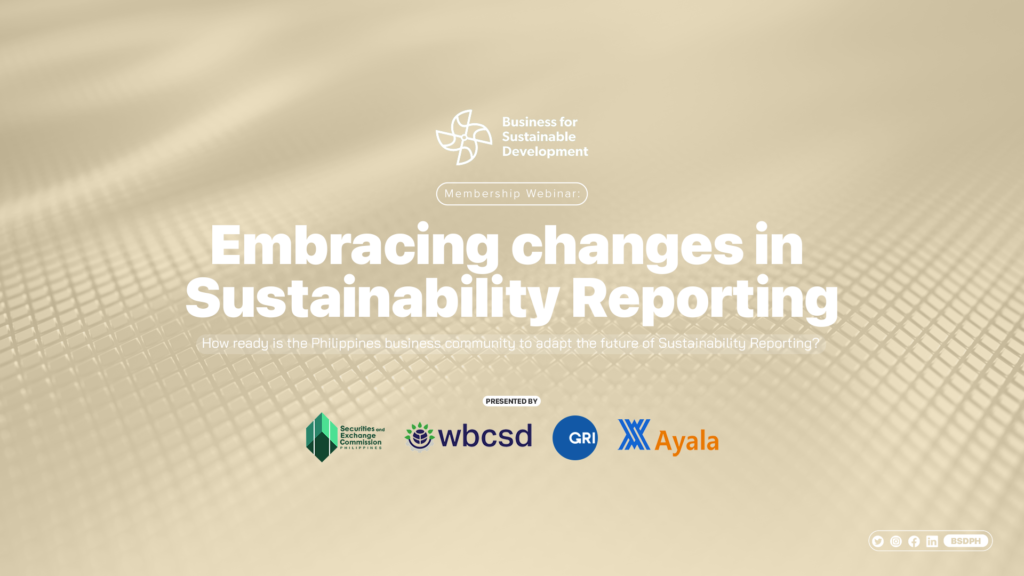 PASIG CITY, Mar. 29 – Business for Sustainable Development (BSD), a leading advocate group for sustainable business practices, recently organized a webinar to equip sustainability professionals with the latest trends and changes in sustainability reporting. 
With a theme, "Embracing Changes in Sustainability Reporting: How is the Philippine Business Community Ready for the Changes in Sustainability Reporting," the webinar featured esteemed speakers from various sectors whom shared valuable insights into the current changes in the sustainability reporting landscape during the webinar. Through their unique perspectives, they shed light on the challenges and opportunities that businesses face in adopting sustainable practices.
The panel included Atty. Iza Marie Castillo-Espiritu, Assistant Director for Governance Division at the Securities and Exchange Commission (SEC); Katreena Pillejera, Country Manager in the Philippines for the Global Reporting Initiative (GRI); Ruth Rennie, Senior Director for Decision and Disclosure at the World Business Council for Sustainable Development (WBCSD); and Maria Victoria Tan, Head of Enterprise Risk Management and Sustainability at AYALA Corporation.
Prior to the panel discussion, Cezar Consing, CEO of AYALA Corporation and member of BSD's board of trustees, delivered a comprehensive introduction to the topic. This set the stage for the keynote speakers to further expand on the topic during their discussions.
Furthermore, the webinar also brought together members of BSD who are sustainability professionals representing various business enterprises in the Philippines. Among these companies are:
Ayala Corporation
Bank of the Philippine Island
BDO Unibank
Cemex Philippines
Filinvest Development Corporation
First Gen Corporation
First Philippine Holdings Corporation
Aboitiz Equity Ventures
Aboitiz Power Corporation
Philippine National Bank
Converge ICT Solutions Inc.
Energy Development Corporation
Holcim Philippines
Maynilad Water Services Inc.
Metro Pacific Investment Corporation
Boysen Philippines
Phinma Corporation
Shell Philippines
Honda Cars Philippines
Landbank of the Philippines
Philex Mining Corporation
Komunidad Global
The Soilmate Collective Inc. (also known as GreenSpace)
Ampersand Design Think Lab
Closing the event, BSD membership manager Raelanie Loyola delivered her closing remarks where she expressed her gratitude to the speakers and to everyone who attended the webinar and concluded an answer to the webinar topic question with "We are progressive than we were a year ago. Our resilient and adaptive Filipino traits will carry us to succession. The social advantage is that we have a shared-value of working together and bringing the right key people in the planning, development and implementation process." says Loyola
Former Philippine Business for the Environment (PBE), BSD is a non-profit industry organization that is committed to promoting sustainable business practices and achieving the Sustainable Development Goals (SDGs). In line with this mission, BSD facilitates collaboration among businesses to address societal challenges that impact the business community. BSD offers consulting services on sustainability reporting, strategy and roadmap, impact assessment, and project implementation to individual corporations to help them adopt sustainable business practices. By providing these platforms and services, BSD empowers businesses to contribute significantly to sustainable development.
"Since I was introduced to Sustainability Reporting in the mid 2000's, it has undergone many revisions, many formats and the disclosures, from a handful to quite substantial based on the 2023 GRI edition," says Ricky De Castro, the Executive Director of BSD.
"We at BSD have seen the full spectrum of sustainable development, and how corporations have worked to be more friendly 'neighbors' by not only disclosing the required information, but also transforming their organizations to contribute to negating the impacts of climate change and repairing the ozone layer to ensure a healthy world for generations to come," he added.
BSD has been committed to promoting sustainable business practices in the Philippines since 1992. As a leading advocate for sustainability, BSD is dedicated to spearheading educational and informative events, not only for sustainability professionals, but also for the wider community. The organization believes that by raising awareness and sharing best practices, we can create a more sustainable and equitable future for all.
###
Media Contact:
Jhian Christian Aranas
Business Development and Membership Officer
[email protected] | +63 917 670 0144