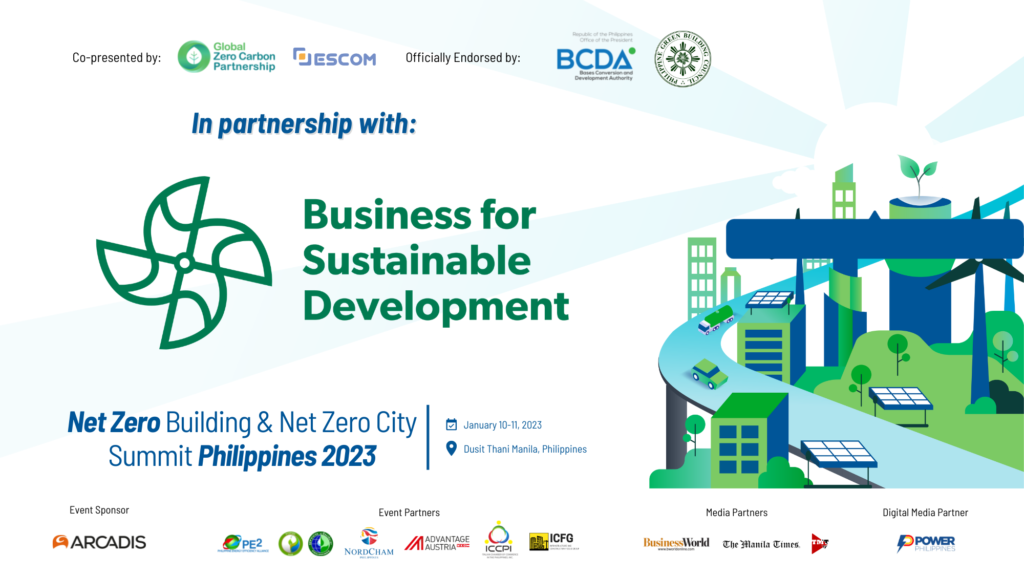 Business for Sustainable Development joins The Global Zero Carbon Partnership along with ESCOM MAV PTE LTD in partnership on an event in October 4, 2022.
This joint venture is an effort to promote and support the upcoming, Net Zero Building & Net Zero City Summit Philippines 2023 event on January 10-11, 2023. Aside from the Philippine Center for Environmental Protection and Sustainable Development, Inc. (PCEPSDI) and Green Choice Philippines, BSD, as a non-profit organization, is also honored to be one of the event partners for this summit. "We are more than willing to promote your event and invite our member companies." Business Development and Membership Manager, Ms. Raelanie assured Conference Producer, Ms. Trina Apuad from Escom after signing the partnership agreement.
Escom Events, Asia's Leading B2B Conference Organizer, willco-present this summit event which will be held in Dusit Thani Manila in January. Net Zero Building & Net Zero City Summit Philippines 2023 is the biggest and most inclusive conference in Philippines's building design, construction, city planning sector. It is designed to keep participants at the forefront of the industry covering sustainability, resilience, health, and wellness in the spaces where we live, work, learn and play. The event is also an exhibition that showcases the world's leading technology innovations in urban planning, carbon management and building solutions. It is the ideal platform for you to source the business partners, product and solutions for your projects.
This summit will take place over two days. The topics on the first day will be:
Climate Ambition & Net Zero City Pathways
Sustainable Urban Design & Development
Carbon Management in Buildings & Cities
ESG and Real Estate.
The topics on the second day will be:
Energy Efficiency And Electric Mobility Business Models,
Energy Storage Net Zero Building Technology,
Smart Cities and Circular Economy and Unlocking Digital Innovation for Net Zero.
Speakers for this event will be Mr. Secretary Robert E.A. Borje (Vice Chairperson and Executive Director of Climate Change Commission), Mr. Raymond Rufino (Chief Executive Officer of NEO Office PH) and Mr. Alexander Ablaza (President of Philippine Energy Efficiency Alliance, Inc.) to name a few.
BSD encourages its network partners, member companies and stakeholders to join this prominent event. Registration links and event details are available on this link, https://gzcp.org/conference/netzerophilippines/#escom_tab2.