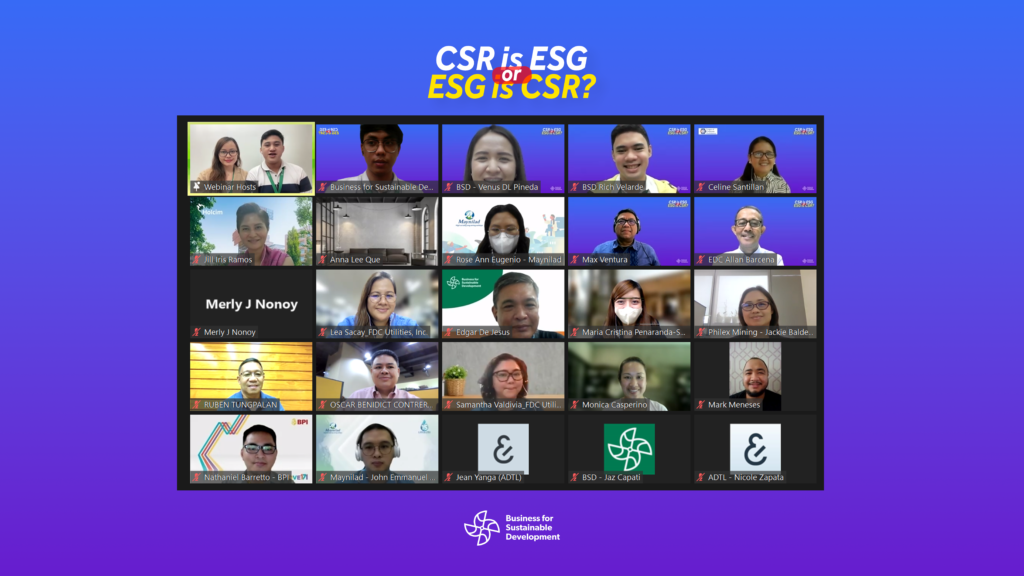 Business for Sustainable Development (BSD) successfully launched their Webinar series, on Thursday, September 22, 2022. The series aims to engage their member companies in various sustainable development discussions and lend a platform to share their sustainability journeys.
With the theme "CSR is ESG, or ESG is CSR", the BSD's webinar series piloted a three-hour long program with over 25 participants who are members of the organization's membership program.
BSD is a non-profit industry association based in the Philippines that provides platforms for companies to work together in addressing key societal challenges that impact business through the lens of achieving the Sustainable Development Goals (SDGs).
"In dealing with our member companies and some other organizations who ask for our advice, we get a lot of questions: 'why do they have to do ESG when they already have CSR, or we already have a CSR policy so is that ESG?' So which is which?," said Roderick De Castro, the Executive Director of BSD during his introduction of the webinar topic.
"We gather together, from different industries with both CSR and Sustainability through this webinar and we'd like to pique your minds to try to find out which is which," he added.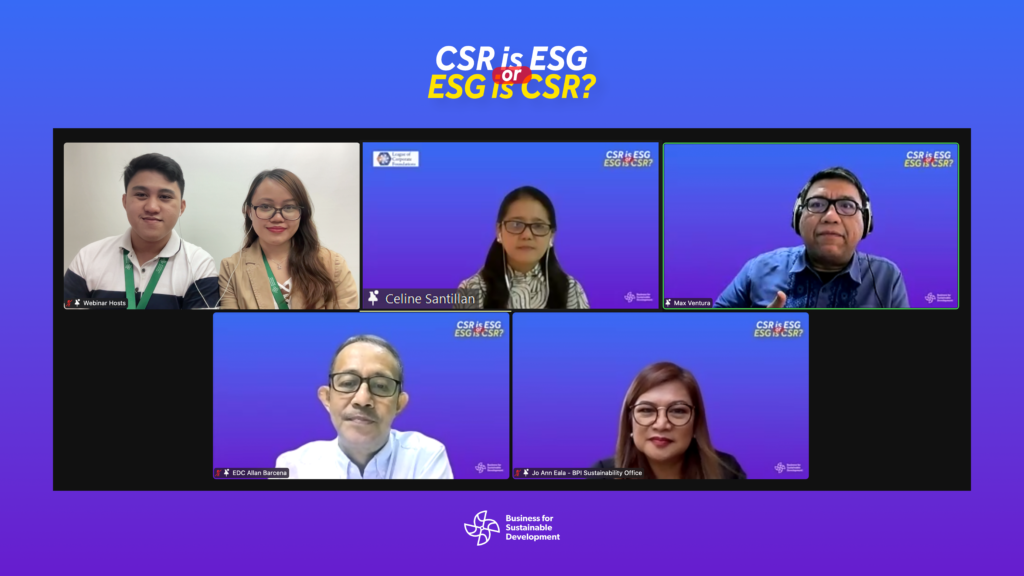 Various Corporate Social Responsibility (CSR), and Environmental, Social, and Governance (ESG) experts were invited to speak and discuss the subject matter.
Celine Santillan, the Executive Director of League of Corporate Foundations, was among the speaking panelists who discussed the core points on CSR.
"Compliance of Corporations to standards of social and environmental guidelines to be and remain responsible citizens of society is what we all aspire to consistently embody," Santillan said. Santillan also expressed her viewpoint that companies must adhere to and implement CSR and ESG not only for themselves but also for the country, and the Filipino people.
Energy Development Corporation (EDC) Assistant Vice President and Corporate Relations and Communications Head Atty. Allan Barcena was one of the resource speakers during the webinar. His presentation of his CSR journey at EDC placed CSR in a micro perspective. "I think there's no 'one size fits all' CSR strategy… It depends on the business objectives, business strategies and of course the materiality," says Barcena.
On the other hand, Max Ventura, the chairman of the Philippine Coalition on Volunteerism Inc., led the discussion on ESG. According to Ventura CSR to ESG is a continuum that is really all in the effort to make corporations relevant and sustainable.
"The challenge for the business community, especially to those who adhere to ESG is to come up with a standard that can be carried just like financial standards [so that] para we can have 'apples to apples' comparison," he said.
In addition, Jo Ann Eala, Vice President of Bank of Philippine Island (BPI) and Head of the Sustainability Office, discussed the evolution of BPI's ESG practices. Eala presented their perspective on the ESG approach, which incorporates economic benefits.
"When we talk about Economic Benefits, that [is] anything impacts your bottom line. It's also something that promotes profitability and success… When an ESG initiative is successful, you can actually make money out of it. Money helps you subsist to propel on your own," Eala said.
Eala concluded the discussion on ESG by issuing a challenge to all of the participants, particularly those who push for CSR. "As a private bank, we look at economic benefits impacting bottom line and impacting benefits …Wouldn't you want to push your CSR projects a little bit more or a little bit higher than your targets to include to the definition of success, profitability so that you can finance your own subsistence?," she said.
Meanwhile, BSD Business Development and Membership Manager Raelanie Loyola expressed her appreciation to the speakers and attendees who made the organization's first webinar a success.
"I do hope this webinar's kick-off topic gave justice to have our members peak their interests in participating in our future webinars in order to contribute to our knowledge bank. I can initially say that we have successfully made an impact as Businesses for Sustainable Development," Loyola said.
Loyola also invites their members to continue to support and participate in their future webinar events. Business for Sustainable Development is looking forward to seeing them more involved in the community of sustainable development.
Audiences can re-watch the livestream copy of the webinar through BSD's YouTube Channel.