Especially today, human activities continue to be its most drastic contributor. As the temperature rises, the ecosystem suffers, and its degradation poses a grave threat to all lives here on Earth.
Nevertheless, individuals and various organizations exert efforts to address climate change. One of these organizations is Komunidad, a data and environmental intelligence company based in Singapore and the Philippines. Last November 2022, Komunidad organized "Adapt Asia", a two-day forum which aimed to discuss relevant matters regarding climate adaptation and resilience, including the roles of the public and the private sectors. Day 1 of Adapt Asia 2022, entitled "Taking Action", highlighted the different efforts of the public sector in building resilience in their respective communities, while Day 2, entitled "Technology and Innovation", was focused on the technical aspects of combating climate change.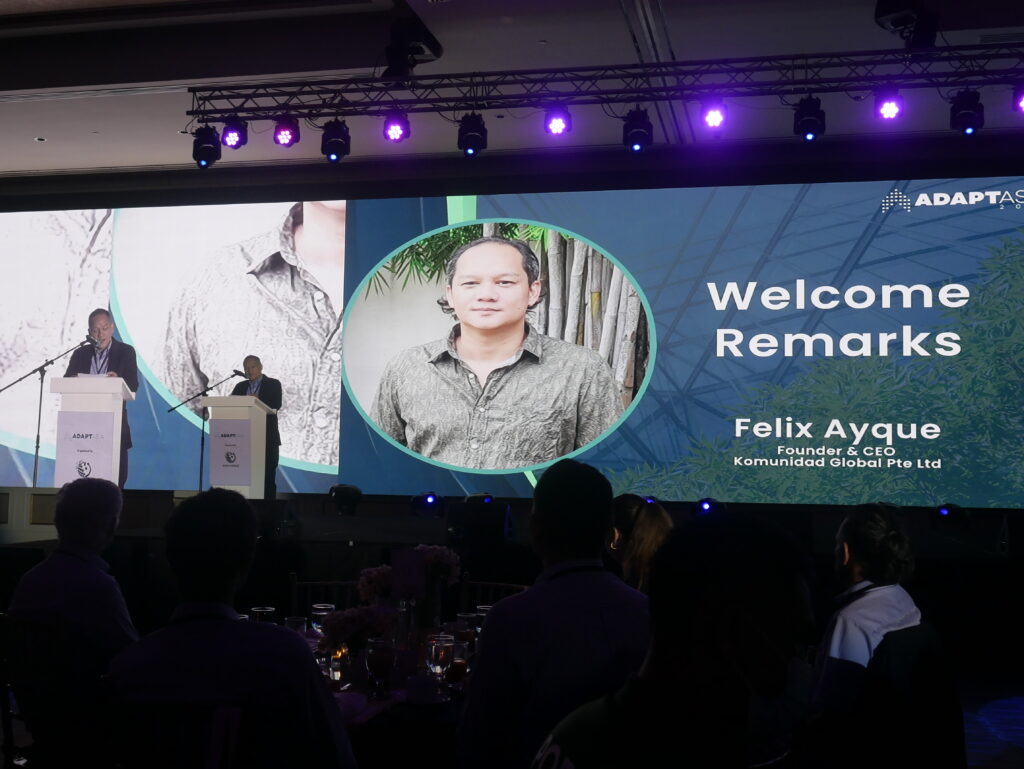 The first day of Adapt Asia 2022 was officially opened by Felix Ayque, Founder and CEO of Komunidad Global, through his inspiring welcoming remarks. Followed by opening remarks from Usec. Raymundo Ferrer of the Office of the Civil Defense – National Disaster Risk Reduction and Management Council (OCD-NDRRMC), Kelly Bird of the Asian Development Bank (ADB), and Manuel Rangasa of Local Climate Change Adaptation for Development (LCCAD). The highlights were the "Stories of Taking Action" from the Mayors of Makati City and Quezon City through their respective representatives, as well as from the Disaster Risk Reduction and Management Office (DRRMO) of the City of Manila. These stories of taking action provided unique ways of addressing climate change, as well as updates on how advanced the above-mentioned cities were in terms of resilience building and climate change adaptation. Moreover, various sustainable and green technologies and systems were also introduced by local and international organizations. Each segment of the Day 1 was capped off by a Question-and-Answer forum, which allowed the participants to further discuss with the esteemed and expert speakers of Adapt Asia 2022.
While the second day of the forum was focused on the new technologies and innovations that are in the market, inspiring stories were also conveyed on how it has been a successful tool in mitigating disaster and climate risks. The day began with opening remarks from Dr. Esperanza O, Cayanan of DOST-PAGASA and a video message from Usec. Atty. Jonas R. Leones of DENR. Afterwards, panelists from IBM, Everbridge and Komunidad delivered their respective presentations prior to the panel discussion. A notable information shared by Yaseer Hossain from Everbridge was the World Risk Report from 2022 which highlighted the Philippines as the most unprepared country on disaster, second on the list was India. To which he added that in order not to be ranked as the one of the lowest high-risk countries in the world again, they are working on improving their Disaster Preparedness and Response Management in India through a public-alerting system. There were two workshops conducted that day, this gave an interactive engagement for the audience to participate in.
Essentially, taking actions and continuing the path to innovations with government implementation will be the key to alleviate these pressing issues on climate change adaptation. Gatherings like these provide awareness and entry points for the government, private sector and sustainability community to acquire information that could be valuable to adapt in their respective sectors.