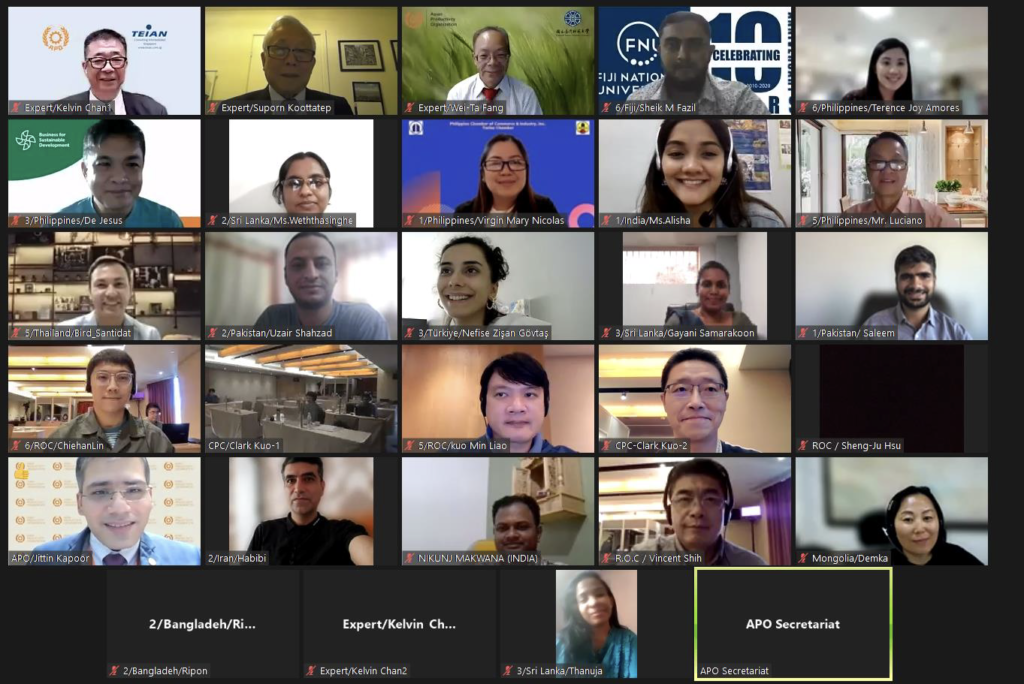 Business for Sustainable Development sent representatives who attended various workshops conducted by the Asian Productivity Organization (APO) in coordination with the China Productivity Center (CPC). BSD Grants and Partnership Manager Egdar De Jesus attended the Training of Trainers and Consultants in Green Productivity, while BSD Sustainability Consultant R Perez along with his associate Jaz Capati participated in the Multicountry Observational Study on Applications of Alternative Energy Sources for Decarbonization.
The training of trainers and consultants in green productivity (GP) was held on 26-30 September 2022, while the multicountry observational study on applications of alternative energy sources for decarbonization was held on 13 and 14 December 2022. Both workshops were virtual sessions and were held using Zoom, a videoconferencing application.
The green productivity workshop's objective was to enable participants to understand the interlinkages between the GP framework and international sustainability initiatives. Participants were also able to gain insights on GP methodology, tools and techniques to enhance productivity, quality an environmental performance of businesses. On the last day of the workshop, a case study was presented to the participants. The class was divided into groups and the participants applied what they have learned of the GP process to the case study. They presented their process and their recommendations in class.
The workshop on applications of alternative energy sources for decarbonization aimed to provide insights into emerging technological advances while sourcing energy from non-fossil fuel-based sources. It also intends to discuss among the participants policy frameworks and pathways that will decarbonize the energy industry and mitigate climate change. Additionally, the workshop will present the benefits of using energy from renewables.
The invitation to the BSD staff was sent through the Development Academy of the Philippines (DAP), which is the National Productivity Organization of APO in the Philippines.
Hopefully, the workshops that will be offered by APO this year (2023) will be face to face as workshop presentations and case studies are difficult to coordinate, discuss and present in an online setting. BSD remains interested and supports these initiatives of APO/DAP in increasing the technical capacity of its member countries with regards to the environmental protection and sustainable development.