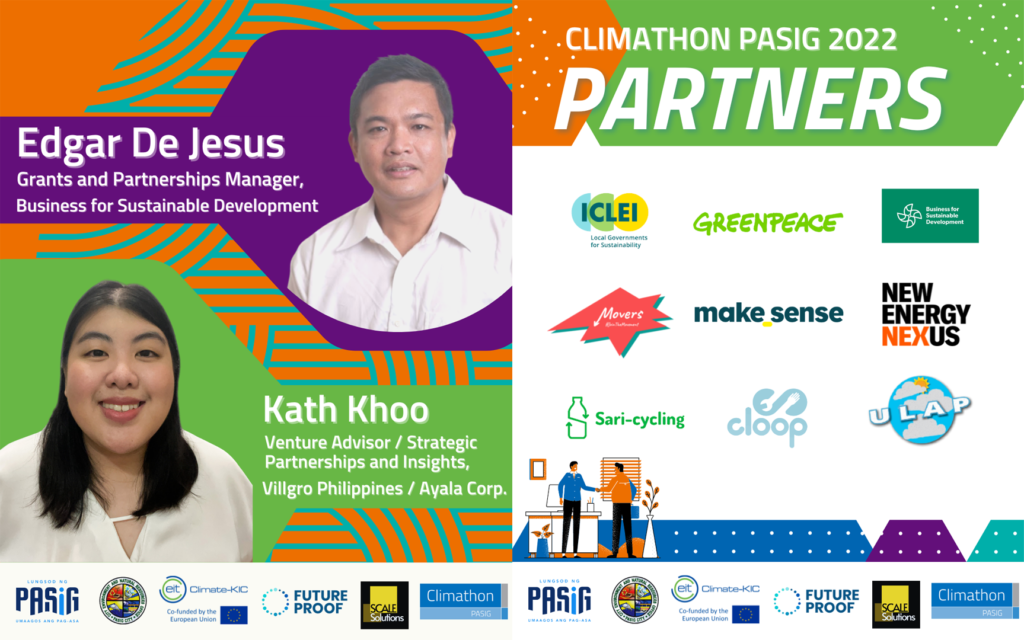 In August of 2022, SCALE Solutions and Future Proof PH Corp, organizers of Climathon Pasig 2022 invited the Business for Sustainable Development (BSD) to be their Community and Organizational Partners for the event.
CLIMATHON is a global movement participated in by more than 9,000 participants in over 200 cities across the globe. It is an ideathon in partnership with a city whose goal is to inspire citizen action to fight climate change.
In partnership with Mayor Vico Sotto of Pasig City, there were two design challenges that participants can choose 1) kitchen waste and how to turn it into a useful resource for the community; and 2) renewable energy and how we can make it more affordable and accessible to households.
Initial communications were between Carla Mumar, founder of SCALE Solutions, Trish Esteban, General Manager of Future Proof PH, and Raelanie Loyola, Business Development and Membership Manager of BSD. As the event was to be held during the Covid-19 pandemic, all communications were online, either through email, Zoom, or through Slack. The event itself, from October 29 to 30, 2022 was held via Zoom.
BSD supported Climathon Pasig 2022 by being an organizational partner. BSD Executive Director Ricky De Castro, and Grants and Partnerships Manager, Edgar De Jesus volunteered as coaches for teams selecting the design challenges for renewable energy and kitchen wastes, respectively. Coaching sessions were provided for those teams still forming ideas, and for teams who already have ideas, and needs a sounding board for proof of concept and proper implementation in Pasig City.
The experience provided by the collaboration was beneficial to all organizations. Hopefully, BSD will be invited again this year as the pandemic winds down, and face to face coaching sessions can be carried out, and more participants can compete in the Climathon Pasig 2023.